Gastro Esophageal Reflux (GERD)
Gastroesophageal reflux disease (GERD) is a more serious and Complicated form  of common gastroesophageal reflux (GER).
This is a condition in which the food or fluid content of the stomach regurgitates (backs up or refluxes) into the esophagus. This can be due to not proper working of the lower esophageal sphincter, transient lower esophageal sphincter relaxation, The food or fluid  can inflame and damage the lining (causes esophagitis)) of the esophagus. The regurgitated liquid usually contains acid and pepsin that are produced by the stomach. The refluxed liquid also may contain bile that has backed-up into the stomach from the duodenum. (The duodenum is the first part of the small intestine that attaches to the stomach.) Acid is believed to be the most injurious component of the refluxed liquid. Pepsin and bile also may injure the esophagus.
GERD is a chronic condition. Once it begins, it usually is a life-long problem
Proper lifestyle and eating habits should be carefully applied in daily routine otherwise symptoms will be back in short Span.
SYMPTOMS
Persistent heartburn
A sour or bitter taste in the mouth.
Chest pain. This may be a dull, heavy
discomfort that spreads across the chest
Hoarseness of voice and chronic cough.
A feeling that you have something stuck in your throatA cough.
Having extra saliva (this is called water brash).
Nausea.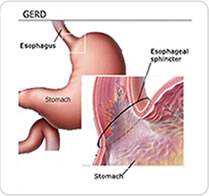 DIAGNONIS AND TREATMENT
Esophageal manometry – This test helps determine the strength of the muscles in the esophagus. It is useful in evaluating gastroesophageal reflux and swallowing abnormalities. A small tube is guided into the nostril, then passed into the throat, and finally into the esophagus. The pressure the esophageal muscles produce at rest is then measured.
pH monitoring – Measures the acidity inside of the esophagus. It is helpful in evaluating gastroesophageal reflux disease (GERD). A thin, plastic tube is placed into a nostril, guided down the throat, and then into the esophagus. The tube stops just above the lower esophageal sphincter, which is at the connection between the esophagus and the stomach. At the end of the tube inside the esophagus is a sensor that measures pH, or acidity. The other end of the tube outside the body is connected to a monitor that records the pH levels for a 12 to 24 hour period. Normal activity is encouraged during the study, and a record kept of symptoms experienced, or activity that might be suspicious for reflux, such as gagging or coughing. The pH readings are evaluated and compared to the patient's activity for that time period.
Then a proper and Specific Treatment will be Determined on the basis of your Age, overall health, extent of condition, tolerance for specific medications, procedures, therapies and Medical History
USEFUL TIPS
Quit smoking.
Avoid overeating.
Watch food intake and limit fried and fatty foods
Eat smaller portions.
Watch consumption of alcohol.
Elevate the head of the bed 6 inches.
Do not lie down or go to bed right after a meal